| | |
| --- | --- |
| | Make animated gifs online |
HERE is a list of sites where you can make Animated Gifs online without downloading any software!
If you want to add animated gifs in your blog, do NOT resize the gif using height and width attribute of image tags. Because doing so will "break" the image. Resize before uploading, not after.
***
This is a pretty simple animation tool. You can upload images either from your computer or from the web and then set the speed for individual frames. You can also resize the animated image or set how many times it will loop.
***
You don't have to register. All you have to do is have some images and they will do it for you!
Also you can turn a video clip into an animated gif or split an animated gif!
***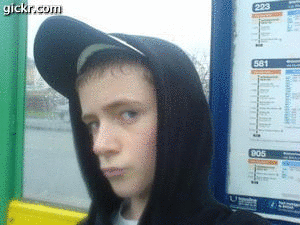 This looks a bit clumsy – it took me a while to figure out where the 'Next' button is, after I uploaded the images. But let's take a chance. Remember ugly duckling?
You can turn your Flickr pictures into animated gifs. Man, that's why the name rang a bell!
Of course you can upload stuff from your computer.
You are allowed to upload as many as ten images for turning it into an animated gif. You can set the pace to normal, fast or slow. You can save your animation, tag it and email to friends!
Not bad!
***
Make A Gif is a simple animation tool. You can upload up to 12 images, choose looping, set the animation speed (slow, medium, fast) decide the frame length (in milliseconds) and resize the animation (custom sizes possible).
You can use their photo booth to take your photos using your webcam and make an animated gif!
***
Flitpics is yet another free online service where you can upload images from your computer or from Flickr and make animated gifs. You can use maximum 10 images for an animation and also choose the speed.
Superscribe your pictures instantly – to enhance
your emails,web sites and communications.
Upload images with you and your friends,cartoons, pets, cars, etc. – from your computer or import it from Flickr and create really personalized animated avatar
or add smart and funny inscription to your favorite flashy image. Post it anywhere you want: MySpace, Facebook, Digg, Reddit,Del.icio.us, Friendster, LiveJournal, Bebo, blogs and forums.
It is fast and easy-to-use tool.No need for Flash and registration.
Share it with the whole world in our Galleries.
From Flitpics
***

GIF animations generator gifup.com
GIFUP.com is your personal GIF animation and avatar generator. Simply capture photo with your webcam or upload images from your computer or get them from Flickr or any web site and let GIFUP do all the magic. You get your animated avatar, banner or GIF slideshow in a sec! You may then save it to your computer, share it with your friends or post it on Myspace, Hi5, Friendster, Blogs, Forums, etc.
Try it now, it's FREE!
From Gifup
***
Gifsoup
You can turn Youtube videos into animated gifs in this site!
***
http://www.your3dsource.com/animate-my-gifs.html

You can upload upto five images and get them turned into animated gifs! In additions, you can choose transition effects like clock, page peel, diamond, star wipe, iris and bar slide!
***
This site is actually quite complex. But not to worry, they have a Help section. Among other things, you can create Animated Gif's here. You can upload an image from your computer or insert an image url. You can even add special effects to your animated gif!
I assume that you will manage to get by. However, if you need my help, don't hesitate to use the comment box. if there are enough requestes, I will do a how-to post about creating Animated Gif's using thus site, just for you all of my wonderful readers!
***
http://www.gifworks.com/image_editor.html
If you already have a ready animated gif, then use this site to add a special effect to your animation. They have an impressive list of special effects I tell you! Moreover, if you press "edit", you can conduct a number of operations; such as write text on the animation, resize/crop/rotate the animation and even add/eliminate tansparency! Furthermore by clicking "optimize" you can reduce the colors, choose websafe colours and also split the animation into frames!
***
This site has more than the ability to create Animated Gifs. But in this post we'll focus on its animation powers. You can upload nine images. Each image is called a frame. You can click individual images to set the speed and style of transition into the next frame!
***
http://picasion.com


This site is fairly simple in its operation. You upload multiple images from your computer or import them from Picassa or Flickr and then you have the ability to choose the size of your animated gif. You can also set the speed of the animation. However, there is no effect for use.
***
Lunapic is an awesome site for creating animated gifs!
You can upload images from your computer or you can choose an online image.

Check out the top tab Animation and choose an effect – if your jaw hasn't dropped already, that is!
***
Water effect
A simple site where you can upload an image from your pc and add animated water effect to it.
***
Yet another site where you can create animated gifs!
They even have a firefox extension, which lets you create animated gifs from an online image!
We allow you to create the perfect animation using your favorite pictures. Using our simple and easy-to-use animation tool, you can set the delay for each picture, specify how many times the animation should loop, add effects to each picture in the animation, and so much more!
***
You might like to check graphics-tools out – it lists miscelleneous image-related links.
***
Flipbook is awesome!
You can actually draw multiple frames and animate the frames! As a guest you can make an animation out of 100 frames (max). Oh, wow!
Here is a sample animated gif. It kind of reminds me of DX Ball and Paranoid!

***
Screedbot
This page makes moving text as an animated gif.

Welcome to screedbot, the animated scrolling typewriter text generator. Write some text and click Create Screed to make your own animated text.
From the site
You can choose image size, font size, font colour and background colour.
***
***
Minifesto

Much like Screedbot, but text appears in multiple lines, instead of a single line – good if you have a lot to say!
***
Marquee text
If you want marquee text codes or marquee text for myspace you've come to the right place. No need to use Dreamweaver or Flash to get text to marquee. It's super easy and compatible to use our marquee text images on your forums or myspace profiles. Get your marquee text in any color: black, blue, red, pink, yellow, etc. Get your marquee tag text and change the color and you'll have the coolest and awesome looking marquee text in no time. Set the scrolling text or speed or font and paste it on your website or profile without any problems. Very easy!
From the site
You can of course use the generated image anywhere you can upload images, not just Myspace!
***
The Ninja Text Generator


Got something to say? Why not let an animated Ninja write it for you?
***
The Wizard Text Generator


The same as the previous one, but instead of a Ninja a wizard writes the text!
***
wobshite
Just write something and the letters will dance!
***
Gifmashup


If you want to combine animated gifs online then gifmashup is definitely for you!
***
Psst, I am sure there are more similar sites with even more goodies! If you find one, don't forget to tip me!
***
---